Holy Land Tours
Holy Land Tours
with Rev. Ricky Anderson
Owner Holy Land Treasures USA

Click Here for Holy Land Tour Travel Tips Click Here to see pictures of Holy Land Tours with Rev. Ricky Anderson
Dates for our upcoming trips (March 18th - 27th 2019) $3,598 (From New York) For an application or questions about upcoming tours of the Holy Land Click Here.
Read our Article: Why should you take a Holy Land Tour?
Our Holy Land tours are hosted by Rev. Ricky Anderson, owner of Holy Land Treasues USA. Each of our Holy Land trips are designed to allow the traveler to see and take in as much as they can of the Holy Land in the 10 days of the tour. We welcome all Christian denominations to our Holy Land Tours and Ricky promises not to split theological hairs with anyone. A tour of the Holy Land will change your life and make your Bible go from black and white to color as you visit the sites where biblical events occured and walk the same land that Jesus walked. On our Holy Land tours we try to squeeze in as many visits as we can to biblical sites not offered on standard Holy Land pilgramages. We limit our groups to 40 so that each tour will be personal and the group can stay together for the length of the tour. Breakfast and dinner daily is included in your tour cost, wonderful hotel accomodations, deluxe motor coach and an Israeli tour guide will be with our group for the duration of the tour. Your Holy Land tour package also includes roud trip airfare from New York to Tel Aviv. Read our article, "Why should you take a Holy Land Tour"?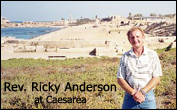 What's Included in Your Holy Land Tour Package
Airfare: Round-trip from New York Area Gateway. (Newark or JFK) We can also arrange for your domestic airfare to and from New York.
Accommodations: Eight nights in tourist class hotels all with private facilities
Meals: breakfasts and dinners included in price
Holy Land Sightseeing: Sea of Galilee, Caesarea, Mt. Carmel, Cana, Mount of Beatitudes, Jordan River, Beat Shean, Bethlehem, Jerusalem, the Old City, Calvary, Garden Tomb, Museums.
Also included in Your Holy Land Tour: Airport-hotel transfers, hotel taxes, baggage handling, touring by private air conditioned Motor coaches, services of a professional and knowledgable escort.
Travelers: Fewer than 40 people.
Holy Land Tour Itinerary - 10 Day Bible Lands Seminar
Day 1 of your Holy Land Tour: New York, NY
Depart from a New York area gateway to Ben Gurion Airport in Tel Aviv. Dinner and breakfast are served on board. We do our best to book an afternoon flight that will land us in Israel in the AM so that our touring begins immediately.
Day 2 of your Holy Land Tour: Tel Aviv to Caeserea to Mount Carmel
If able to book the flight that lands us in Israel in the morning, our trip will begin in Caeserea with a wonderful lunch in a Druze village in the Carmel Mountains. After lunch we drive to the top of Mt. Carmel to the site where the prophet Elijah challenged the prophets of Baal. Our day ends with our arrival at our hotel in Tiberius overlooking the Sea of Galilee. Here we start to walk where Jesus walked.
Day 3 Holy Land Tour: Sea of Galilee to Caesarea Phillipi
Our day begins with a boat ride across the Sea of Galilee. Upon arrival on the north shore we tour the area that was the base for the ministry of the Lord Jesus. Capernaum, the Mt. of Beatitudes, the site where He fed the 5,000 and more. We then drive to the Golan Heights looking over into Syria and have lunch in a village along the Golan or northern Galilee. After lunch we go to Caeserea Phillipi at the base of Mount Hermon. Then we drive back to Tiberius and our hotel for dinner and overnight.
Day 4 Holy Land Tour: Nazareth, Cana, Beth Shean and the Jordan River
We drive to Cana, the site of the first public miracle that the Lord Jesus perfomed, turning the water into wine at the wedding feast. Then we drive nearby to Narareth, where the Lord lived until the age of 30. Driving by the Tel of Megiddo along the Valley of Armageddon we drive to ancient Beth Shean. After lunch we tour the Roman and ancient city with its magnificent ruins. We then drive along the Jordan River to the Yardenit Baptism site. Here, Ricky will baptize all that would like to. (They have a wonderful bathhouse) After the Baptism servive we go back to Tiberius dinner and overnight.
Day 5 Holy Land Tour: Galilee to Jerusalem
We leave Tiberius driving along the Jordan River Valley. Just below Jericho we visit the actual Baptism site where John the Baptist baptized the Lord. From here we ascend to the Holy City of Jerusalem. Just when you thought it could get no better, it is only beginning when we get to Jerusalem. Drive through Jerusalem we go to Bethlehem, the Lord's birthplace. After lunch we go to the Church of Nativity and walk underneath the altar where you can actually touch the spot where the Lord was born. We try to take in Shepherds Fields where the angel announced to the shepherd's that Jesus was born and make our way back to our Jerusalem hotel for dinner. This will be our hotel for the rest of the trip.

Day 6 Holy Land Tour: Jerusalem
Today we spend the day in Jerusalem's Old City. This will be one of the most special days in your life as we walk the Via Dolorosa (the Way of the Cross). We take in a great deal in the Old City as we see the Pool of Bethesda, the Cardo in the Jewish Quarter, Western Wall, Temple Mount, Dome of the Rock and more.
Day 7 Holy Land Tour: Masada
Leave Jerusalem. After stopping at the Inn of the "Good Samaritan", arrive at the shores of the Dead Sea - the lowest point on earth. We drive along the Dead Sea to Masada, the fortress where the Jewish Zealots held off the armies of the Roman Empire before choosing suicide over surrender. Continue to Ein Gedi, where King David found shelter from the wrath of King Saul. After lunch, we enjoy a short "float" in the Dead Sea. Continue to Qumran where the Dead Sea Scrolls were discovered in 1947 in a cave and then return to Jerusalem for dinner and overnight.
Day 8 Holy Land Tour: Jerusalem
Today Ricky will take you to the Old City for a day of shopping and sightseeing that many say is the most fun day of the trip.
Day 9 Holy Land Tour: Jerusalem to Tel Aviv
Today we check out of our hotel about 10AM, allowing us plenty of time to pack for home. Sometimes we vary what we do on the last day in Jerusalem but usually we start out at the Western Wall again. From there we walk down through the Old City of David to the Pool of Siloam. We then walk the Kidron Valley. We come out of the Kidron in front of the Garden of Gethsemane. From here we drive to the top of the Mount of Olives and walk down to Gethsemane. Saving the best for last, we spend the rest of the day at the Garden Tomb and Calvary. This is the site many believe is the actual site of the death, burial and resurrection of our Lord Jesus. From here we go to have a literal feast for dinner.
Day 10 New York, NY
Today, our Holy Land tour ends with good memories as we head home. Arrival the same day.
++++++++++++
Upcoming Holy Land Tours: (Summer tours to be announced) This special summer Holy Land tour is wonderful for school teachers or anyone that works in education that only has the summer months off. The bulk of our group will leave from Raleigh-Durham and we can easily meet you at JFK in New York. We try to make each tour as special and personal as possible, with many stops not included with any other tours and try to keep our groups at 40 people or less. For an application or questions about upcoming tours of the Holy Land Click Here.
Included in the tour price , gourmet breakfast and dinner, wonderful hotel accomodations, deluxe motor coach, official Israeli tour guide for duration of trip, some of the finest people you will ever meet and the most heart stirring sites that you have ever seen.
All Christian denominations are welcome ( I do not pick theological fights with anyone ) and we look forward to a safe, wonderful trip of a lifetime. Please call us at 866 416-4659 or email for an application.
We have many references of previous travelers. This special Holy Land Tour requires a $500.00 deposit. Total trip cost is due 60 days prior to trip date. Get on board before we fill up. For more information on travel to the Holy Land, click here.
For pictures of our trips to the Holy Land, click here.
All travel for these wonderful Holy Land tours is booked through Journeys Unlimited of New York, New York.
Our Holy Land tours are open to everyone in the US. Our trips are especially convenient for residents of the Triangle, Triad and all of North Carolina. We are located in Zebulon, North Carolina, 20 miles east of Raleigh. If you have questions about any of our upcoming Holy Land tours please call us toll free at 1 866 416 4659. We are a family business and not a large corporation.
If you are looking for a Holy Land tour that is personal and affordable, our Holy Land tours may be what you are looking. Our dear friends at Journeys Unlimited do a wonderful job at keeping our tours affordable and Ricky Anderson, owner of Holy Land Treasures USA, does all that he can do to make our Holy Land tours personal. Our Holy Land trips usually last 10 days and we try to pack as much into your tour as possible. Most people consider our Holy Land tours to be the trip of a lifetime, but we don't wish to deceive anyone that our tour is simply a vacation. Our Holy Land tours require a great deal of walking (especially in and around Jerusalem) and we try to move our group at a steady pace so that we can take in all that is possible in your 10 day tour.
Our tours do have a luxurious side though. For the 10 days of our Holy Land trip you will be transported in a deluxe motor coach from biblical site to biblical site. In the evenings you will stay at 4 and 5 star hotels for the entire trip. All of our Holy Land tours include breakfast and dinner daily. (This is the most dangerous part of your Holy Land tour. You may gain about 10 pounds if you are not careful.) Our tours are priced for double occupancy but if you desire a single room it can be arranged for an additional fee (usually $350.00).