About this Wholesale Carved Bead Olive Wood Rosaries (Unboxed) | 60 @ $7.90 Each
These olive wood Rosaries are made in biblical Bethlehem by Christian artisans Hani Handal and Johnny Handal and feature carved olive wood beads and a Virgin Mary centerpiece.
Bulk Wholesale timeframes for this Rosary are (40 - 500 - 3 to 4 Weeks) (600 - 2,000 - 4 to 6 Weeks) (2,000 or More Rosaries - 5 Weeks or More)
These carved olive wood bead Rosaries are offered here at Bulk Wholesale with a graduated volume discount price. The shops of Hani and Johnny Handal are located on Manger Street in biblical Bethlehem, just a few minutes walk from where Christ our Lord was born.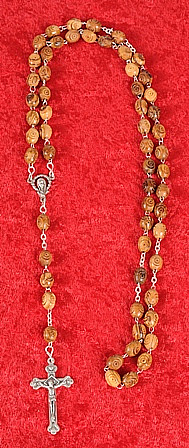 Other customers who bought this item also bought...