About this Hand Carved Olive Wood Crucifix with 4 Holy Land Articles (15") | Brown, 1 Crucifix
This 15 inch tall Crucifix is hand carved from Holy Land (Israel) olive wood in the Bethlehem carving shop of Christian artisan Jeries Facouseh, just a ten minute walk from where Christ our Lord was born. This large wall Crucifix features 4 inset glass containers with Holy Land articles. These articles are (clockwise from top of Crucifix) Holy Land olive leaves, frankincense, soil and stones. These articles sometimes vary. Our gift card and a made in the Holy Land certificate of authenticity come with each Crucifix.

See all of our Large Crucifixes

We offer this carved Crucifix to buy individually or in bulk with a graduated discount. This style of Crucifix is called a "Fourteen Stations" or "Budded" Crucifix. The cross is made from fourteen separate pieces of olive wood to commemorate the 14 Stations of the Cross in Jerusalem (the Via Dolorosa). Each arm of the cross is made from 3 pieces of olive wood to represent the Holy Trinity.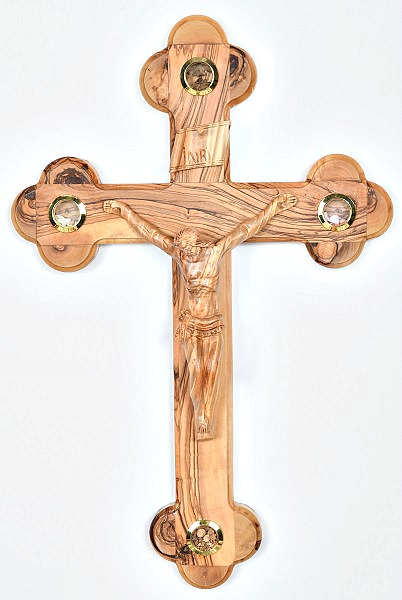 Other customers who bought this item also bought...