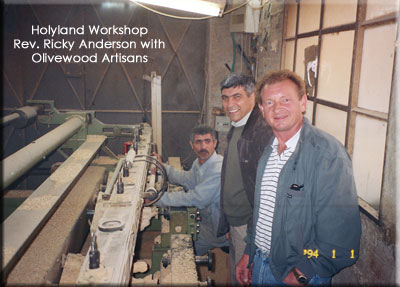 Welcome to Holy Land Treasures Online.
Holy Land Treasures is owned by Rev. Ricky and Donna Anderson of Zebulon, North Carolina. For over 20 years Ricky has led tours to Israel. In 2005 Ricky had a moving experience in prayer in his Jerusalem hotel room. When he returned home he told Donna that he wanted them to start a business offering olive wood carvings and other items made by Christians in the Holy Land that could only be found on a journey there. Donna became excited about the idea and thought of the name Holy Land Treasures.
From the very beginning Ricky and Donna wanted to only offer items of the highest quality. That search led them to Christian artisan Jeries Facouseh in Bethlehem. Jeries is simply the best at what he does, hand carving statues, Nativity sets, crosses and Crucifixes. Ricky's relationship with Jeries led to meeting Hani Handal and Johnny Handal. They are more than business partners, they are brothers in Christ, they are family. (Anthony Handal was part of this original partnership. In 2010 Anthony went home to be with the Lord and we miss him greatly.)
Holy Land Treasures exists to support these wonderful, godly Christian men and their families in Bethlehem. Every purchase at Holy Land Treasures directly impacts the Christian community of biblical Bethlehem with jobs and hope. Quite honestly, if Christians around the world do not support the Christians that are left in the Holy Land, in a few years there will hardly be any Christians left in the Holy Land.
Please feel free to call toll free: 1-866-416-4659 to speak with someone about any of these lovely products.