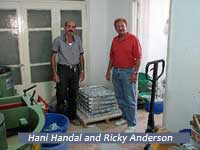 Hani Handal is a life long resident of Bethlehem and a very talented Christian artisan. The Handal family business, Handal Trading Company of Bethlehem, has manufactured Rosaries, candle holders, Crucifixes and Crosses in the birthplace of the Lord Jesus for almost 80 years. Hani works together with his brother in laws Johnny and Anthony Handal to produce these fine works.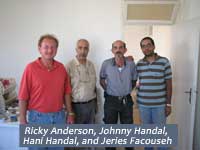 Hani casts all the metal parts for the Rosaries and Crucifixes in his workshop (Bethlehem Casting Company). Johnny's specialty is woodwork. He and his staff make all of the olive wood beads and the Crosses. Anthony specializes in turned olive wood carvings such as our lovely candlesticks and Communion cups.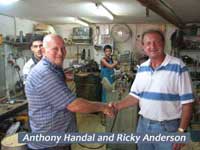 Together these men produce these sacred articles to give you a piece of the Holy Land, made just a short distance from the site of the birth of the Lord Jesus. Everything that their shops turn out is of the highest quality and we feel beyond compare. They are not just fine craftsmen, but they are also wonderful people. It is an honor to do business with such good friends and fine Christian men.