About this Wholesale Roman Cross with Stone Keychains | 140 Key Chains @ $2.49 Each
Please allow 2 to 4 weeks for these bulk wholesale cross key chains. Shipping is free. These Roman Cross keychains are made in Bethlehem in the casting shop of Hani Handal and feature a glass bubble containing a Holy Land stone in the center of the Cross. These bulk wholesale Cross keychains are exquisite and provide inexpensive gifts in large quantities for Catholic congregations and large Christian groups. We are sorry, but we do not offer these key chains in smaller quantities.
See all of our Wholesale Keychains
The Handal casting workshop, where these lovely Cross keychains are made, is on Manger Street, about a 5 minute walk from the site of the Lord's birth. These wholesale keychains are excellent stock items for resale in Catholic gift stores, Christian gift shops or wherever religious gifts are sold.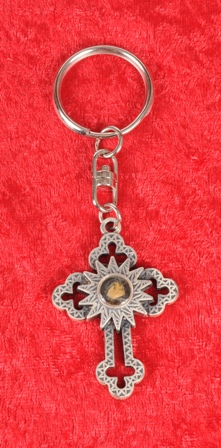 Other customers who bought this item also bought...