About this Wholesale Decorative Holy Family Key Chains | 20 Key Chains @ $3.99 Each
Please allow 2 to 4 weeks for these key chains. Shipping is free when you order bulk wholesale. These decorative Holy Family key chains are an ideal inexpensive Christian or Catholic religious gift in bulk. (Please Note: This bulk wholesale keychain will come in a variety of colors) This Holy Family keychain is larger than most of our other keychains and is cast with a decorative frame around the Holy Family. The lovely keychain is made in Bethlehem (Bethlehem Casting Company) by our good friend Hani Handal. This Holy Family keychain is priced in bulk to provide churches with small inexpensive gifts (favors) at Mother's Day and Christmas. We do not sell these key chains in smaller quantities.
See all of our Holy Land Keychains
The casting shop of Hani Handal, where these lovely Holy Family key chains are made, is on Manger Street in Bethlehem, not far from where the Lord Jesus was born. These lovely bulk wholesale keychains are a wonderful inexpensive gift for all Christian denominations, Catholic and Orthodox.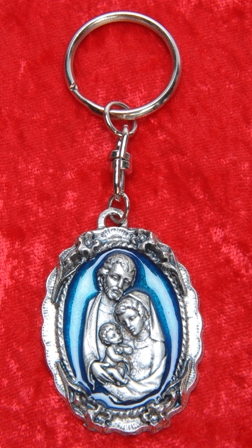 Other customers who bought this item also bought...