About this Wholesale Personalized Engraved Olive Wood Communion Cups | 6,000 @ $1.32 Each
We are very sorry but we do not offer these engraved communion cups in smaller quantities.

Please note our timeframes below before ordering.
In checkout please give us what you would like engraved on the "Gift Card - Shipping Note" page. This page is right after your address page. If you want a logo engraved please email us at ricky@holylandtreasuresonline.com.
We will send you an image of a proof and get your approval before we engrave the cups.
These olive wood communion cups are made in biblical Bethlehem from Holy Land (Israel) olive wood in the carving shop of Christian artisan Jeries Facouseh, just a few minutes walk from where Jesus our Lord was born.
Timeframes for these cups are (100 - 400 - 3 to 4 Weeks) (500 - 2,000 - 4 - 5 Weeks) (2,500 - 8,000 - 5 to 6 Weeks) (9,000 Cups or More - 6 Weeks or More)
Beautifully laser engraved with your church name, logo, organization name, group name, etc., these 1 5/8 inches tall olive wood communion cups make a wonderful keepsake. Most churches use these for Holy Communion and allow each recipient to take the cup home for a keepsake. These cups are ideal for personalized engraved Christian gifts in bulk. We have these communion cups priced here with a graduated volume bulk discount.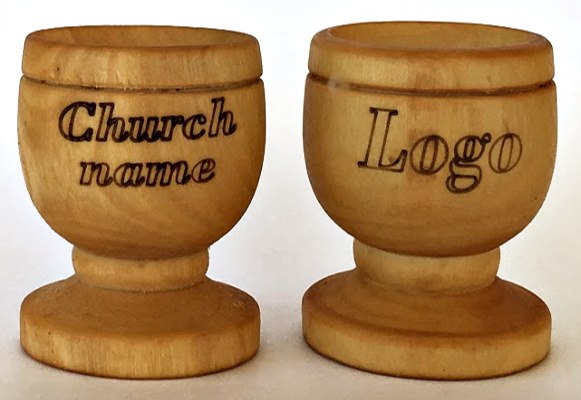 PLEASE NOTE:
If you are a church or organization in the US and would like to get free samples before placing a bulk wholesale order just give us a call at 1-866-416-4659 and we will be glad to provide them.
Other customers who bought this item also bought...