About this Wholesale Olive Wood Finger Rosaries | 800 @ $.69 Each
Bulk Wholesale Shipping is Free.
These olive wood finger Rosaries (ringlets) are made in biblical Bethlehem in the shop of Catholic Christian artisan Johnny Handal. We offer them here at Bulk Wholesale with a graduated volume discount price.
Timeframes for these ringlets are (2,000 or less - 4 Weeks) (3,000 - 5,000 - 4 - 6 Weeks) (6,000 or More - 5 Weeks or More)
These ringlets (finger Rosaries) feature olive wood beads banded together with an elastic band. The olive wood crosses have "Jerusalem" stamped on the back.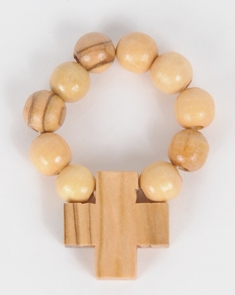 PLEASE NOTE:
If you are a church or organization in the US and would like to get free samples before placing a bulk wholesale order just give us a call at 1-866-416-4659 and we will be glad to provide them.
Other customers who bought this item also bought...