About this Wholesale Carved Bead Olive Wood Rosary Bracelets | 1,500 @ $2.20 Each
These olive wood Rosary bracelets feature carved olive wood beads and are made in biblical Bethlehem in the shop of Christian artisans Hani Handal and Johnny Handal, just a few minutes walk from where our Lord Jesus Christ was born. The carved olive wood beads are made from Holy Land (Israel) olive wood and "Jerusalem" is on the back of each Crucifix.
Timeframes for these Rosary bracelets are (120 - 500 - 3 to 4 Weeks) (600 - 2,000 - 4 to 6 Weeks) (Over 2,000 - 6 Weeks or More)
These Holy Land olive wood Rosary bracelets are featured here at bulk wholesale with a graduated volume discount.
All of our bulk wholesale Catholic gift products are made in the Holy Land.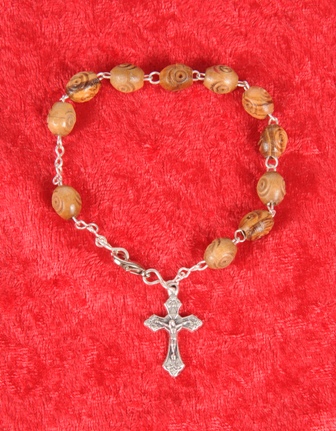 Other customers who bought this item also bought...