About this Wholesale Wooden Jesus Cross Necklaces | 10,000 @ $1.30 Each
Bulk Wholesale Shipping is Free.
These small wooden Jesus crosses (necklaces) are laser carved from Holy Land (Israel) olive wood and come on 22 inch nylon cords. These small wooden crosses are packaged similar to our online image.
Timeframes for these small cross necklaces are (200 - 1,000 - 3 to 4 Weeks) (2,000 - 5,000 Necklaces - 5 Weeks) (6,000 or More - 6 Weeks)
Ideal for Christian gifts in bulk or bulk wholesale Catholic gifts, these Jesus cross necklaces are made in the Bethlehem olive wood carving shop of Christian artisan Jeries Facouseh, just a few minutes walk from where Christ our Lord was born.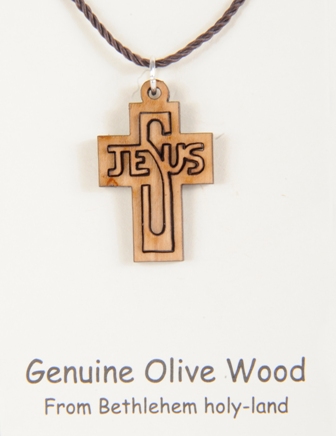 Other customers who bought this item also bought...