About this Memorial Bible with Holy Land Olive Leaves | Brown, 1 Bible
This beautiful memorial KJV Bible makes a memorial gift that will be cherished. Holy Land olive wood covers adorn this lovely memorial Bible that also features a glass container with Holy Land olive leaves. If this memorial Bible is being sent as a bereavement gift we can ship it directly to the bereaved if you like (USPS Priority Mail, 2 to 3 days anywhere here in the US). This memorial gift Bible comes with our memorial gift card, which can be personalized for free, just place your words of condolence in the gift card notes box at checkout.
For Christian memorial gifts, this lovely Bible is a gift that will last indefinitely, unlike traditional flowers. The olive wood covers for this memorial Bible are made from Holy Land olive wood in the Bethlehem Olivart workshop of world renowned Christian artisan Jeries Facouseh, not far from the site where the Lord Jesus was born. On the front cover the praying hands and crown of thorns are engaved with Jerusalem engraved on the back cover. These memorial Bibles are also priced for bulk purchase.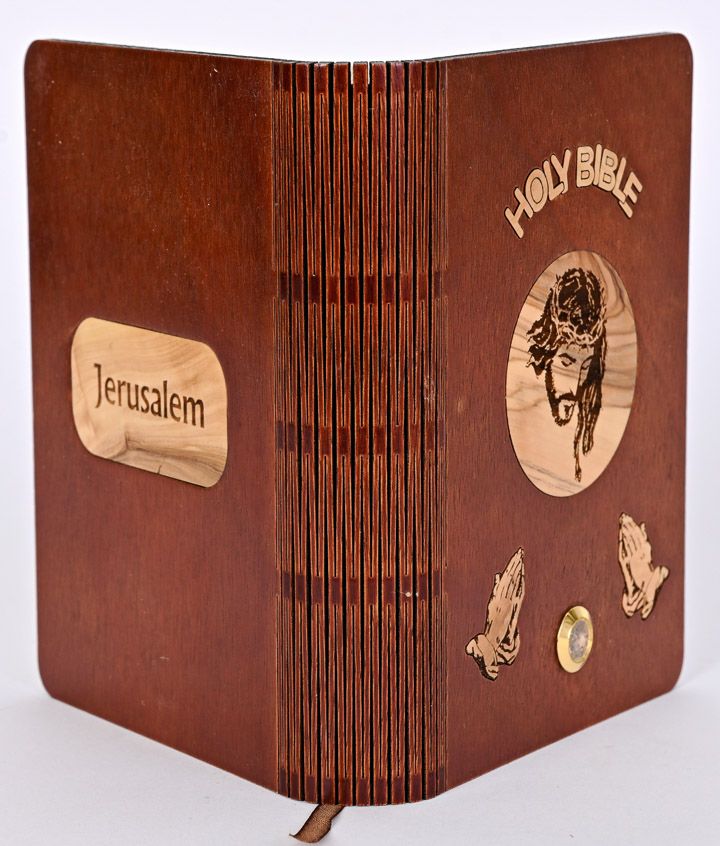 See all of our Holy Land Bibles